Twenty ways to get out of a food rut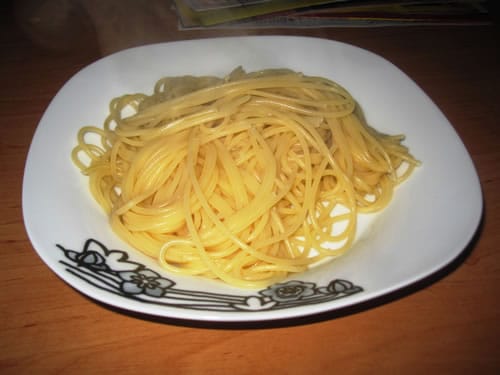 With the busy-ness of the past couple of months, I've been finding myself in more and more of a food rut.  I've been eating reasonably healthfully in general (following my rules, of course), but I feel like I'm eating the same foods over and over again.  I need to get excitement and variety back into my meals!
Here are some ways I've come up with to do just that. If you have any other suggestions, I'd love to hear them in the comments.
1. Shop hungry.
Everyone says that if you shop when you're hungry, you'll be more likely to grab foods that are unhealthful. Generally, I agree. However, if you decide you're going to the store specifically to find new foods, and before you walk in you commit to buying only foods that are healthful, then I think this can be a great strategy.  When I do this, the items I put in my cart are inevitably more adventurous and creative.
2. Host a dinner party or brunch.
There's nothing like trying to impress your friends to get you to crack open your cookbook(s) and put together an interesting, new dish.  (I suggest you give any new recipes a test run at least a few days before, just in case.)
3. Make that party a potluck.
Better yet, make it a potluck!  Come up with a basic theme or throughline for the meal, and then ask guests to bring a dish that works within that theme.  I'm thinking "Pirate" or "Tropical" or perhaps even "1930s Débutante."
4. Learn a new cuisine.
Love Thai food?  How about Indian?  I always get Sag Paneer when I eat at Indian restaurants.  It's time I learned how to make it myself.
5. Try a new cooking technique.
Most people always gravitate either to the oven or to the stovetop. Mix it up and go outside your comfort zone! Sous Vide, anyone?
6. Take a cooking class.
This is a great way to learn new skills or hone your existing ones.  It's also a good way to make new foodie friends. Community colleges and university "extension" programs often have some great, low-cost classes.
7. Try a new restaurant.
Try that new place you've been wanting to check out!  On a budget?  Check out restaurant.com — you can get $25 certificates for as little as $2 if you sign up for their email list and wait for one of the "80% off" promotions.  (Now through February 28, 2011, use promo code DINE for 80% off!)
8. Try a food truck.
Food trucks are all the rage these days.  Figure out where and when an awesome food truck will be.  Then go wait in line.
9. Be your own Iron Chef.
Pick four random ingredients from your fridge or pantry, give yourself 15 minutes, and see what culinary brilliance you can create.
10. Shop at a different local grocery store.
I know my local Trader Joe's like the back of my hand.  But the nearby Vons?  I haven't a clue where anything is. Going to a different grocery store means that you'll have to look for items — and you'll likely discover new foods that you hadn't noticed before.
11. Shop at an ethnic grocery store.
Go to Koreatown or Little Ethiopia and explore the offerings in the small, family-owned grocery stores. You'll find great deals on some very different foods, sauces, and spices.
12. Use your cookbooks, frequent food blogs, and read the food section of the newspaper.
Tons of great ideas in all these resources — you just have to do a little looking.
13. Try a new whole grain.
Quinoa, amaranth, teff, barley, buckwheat, millet… the list goes on and on!  Not sure where to start?  Go over to Bob's Red Mill and check out their offerings.
14. Buy a new kitchen tool or gadget.
Finally getting that Immersion Blender, VitaMix (!) or a new, super-sharp Ceramic Knife you've been lusting after may reinvigorate you to get back in the kitchen and try some new recipes.
15. Take up a food DIY hobby.
Join the homesteading movement! Make cheese, pickles, jam, beer, wine, or roast your own coffee. Head over to Punk Domestics and get some ideas.
16. Join a CSA.
With Community Supported Agriculture, you buy "shares" of a local farm.  The return on your investment is boxes of fresh, seasonal produce from the farm every week or two. You don't have any control over what you're going to get, so you are forced to get creative and make something with whatever's in the box.  Limits can be a good thing.
17. Pick your own berries.
A fun way to spend an afternoon, especially if you've got kids.
18. Grow some herbs or other food.
This one takes a little longer, of course, but it's still a great way to go.  There's nothing quite so wonderful as seeing little shoots come up out of the ground a few weeks after you've planted.
19. Eat seasonally.
Learn when vegetables and fruits are in season, and then focus on those.  It's cheaper, healthier, and far more delicious.  It also helps keep some variety in your diet, since you'll then be frequently changing what produce you're filling your fridge with.
20. Play Health Month.
Team Eating Rules has been going strong this month over at Health Month — and we're looking to do it again next month!  By interacting with each other on the "game wall," and keeping track of our healthy eating and healthy living rules, it's a self-reinforcing and group-reinforcing environment. Next month, I'm going to create a custom rule of "Try a new food at least once a week."
—
Photo by Like_The_Grand_Canyon.