A couple of weeks ago my friend and fellow Los Angeles Food Blogger, Tori Avey — a.k.a. "The Shiksa" — invited me to join her virtual Passover Potluck. Tori is downright fabulous, so I immediately replied with an enthusiastic, "I'm in!"
(She also shared her roasted root vegetables recipe here for October Unprocessed last year, so the least I could do was return the favor!)
Tori is curating a ton of guest posts and recipes from fellow food bloggers over the next few weeks leading up to Passover.  Some are Jewish, some aren't, and that's part of the point: One of the important aspects of Passover (in addition to the food!) is the opportunity to share our story. If you look around many Seder tables these days, you'll find folks from a variety of perspectives and faith traditions.
Most of the standard recipes had already been spoken for (and I've already done whole wheat matzo balls), so when I suggested mock chopped liver, Tori pounced. Yep, a vegetarian chopped liver. Trust me, it's delicious.
Mock Chopped Liver for the Shiksa's Passover Potluck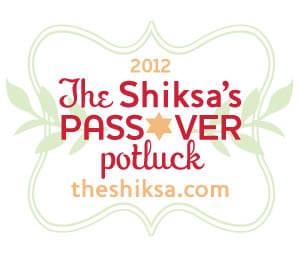 Tori will be updating the main Passover Potluck page as new recipes are revealed each day, so be sure to keep an eye on it.  And join the conversation on Twitter with hashtag #PassoverPotluck.