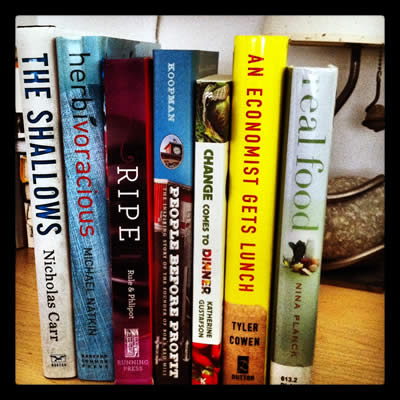 Okay, so the title of this post is a little misleading. Perhaps it should be "Let me share with you the big pile of books on my bedside table right now." But that's a little unwieldy.
Some of these I've read, and some I've only had time to give a cursory look so far.  Although I received free review copies of most these (except where noted), I'm genuinely interested in them and believe they're worth the read or the recipes.  (I politely decline offers of books when I don't care to read them).  If you've read any of these, please chime in with a comment and let us know what you think!
Links to Amazon are affiliate links (thanks for your support!).
Cheryl Sternman Rule and Paulette Phlipot
2012, Running Press
Available on Amazon
I adore my friend Cheryl, author of the blog 5 Second Rule. She is a positively radiant woman who writes with a  whimsical charm that breezily brings you into her world. I love the choice to organize this collection of recipes by color, starting each chapter with a stunning photo of a perfect fruit or veggie specimen. Somehow Paulette's photos find a way to take the ordinary and make it jaw-droppingly, mouth-wateringly gorgeous.
To give you just a taste, here's Cheryl's tip on Mangoes: "Picture a soapy baby. Now prevent this baby from wiggling. Isn't that fun? Handling a peeled mango approximates this challenge."
I'm not sure whether to keep this book on my recipe shelf or my coffee table. If ever there was a perfect advertisement for fruits and vegetables, this would be it.
Michael Natkin
2012, Harvard Common Press
Available on Amazon
Herbivoracious is a beautiful new vegetarian cookbook based on the popular blog of the same name. I attended Michael's book signing and cooking demo last week (full disclosure: they gave us free food), and was impressed by his simple, clean approach. Case in point: The cooking demo was an appetizer dish of chevre and briefly sauteed grapes. Tasty, simple, and a bit different. Nice.
The photography in the book is very good, though not the highest level of "food porn" out there. I actually appreciate that: It looks much more like what would actually come out of my kitchen than some overly styled fantasy creation that I could never achieve. (Okay, Michael's pictures do look better than what would actually come out of my kitchen.)  Comparing the cover photo (taken by Sabra Krock, styled by Roscoe Betsill) to Michael's photo of the same dish (Basil Gnudi with Summer Squash) is a fascinating foodie exercise in and of itself.
Thumbing through the pages, Matty and I both immediately started dog-earing corners of recipes we want to try: Peppery Absorption-Cooked Red-Wine Capellini? Roasted Maitake Mushrooms in Smoky Tea Broth? Yes, please!
Nina Planck
2006, Bloomsbury
Available on Amazon
I picked this one up from the library based on the recommendation of my friend (and October Unprocessed Guest Author) Margaret Floyd. the author of Eat Naked and The Naked Foods Cookbook.  As I was checking out, the usually surly librarian (I've actually seen her "shush" people, accompanied with an eye-roll) saw the book and perked right up, telling me about how wonderful this book is and how it changed how she eats (for the better, clearly). She and I are friends now, I think.
I'm pretty sure Nina is a disciple of the Weston A. Price foundation, with a big dose of Paleo to boot — she's most definitely a fan of real meat, real butter, real fruit, and real vegetables. My feelings on "Paleo" aside, this is about as unprocessed as it gets, so I'm clearly a fan.  This book is not about recipes; rather, it's about the world of whole, nourishing, real ingredients.
Nishanga Bliss
2012, New Harbinger Press
Available on Amazon
I met Nishanga at a food blogging conference a couple of years ago, and was captivated by her energy and enthusiasm — and interest in helping others.  Bringing us back to cultural traditions, and real, wholesome food (in the original sense of the word), she organizes the book by the four seasons. Considering that fruits and vegetables are available year-round for many of us these days (but at a cost of quality and price — and perhaps our health), it's a great reminder to follow the cycles that nature created.
More information and advice than recipes (though there are quite a few), she ties everything together with Chinese Medicine, pointing out that "Chinese medicine offers an important complement, and counterpoint, to Western allopathic medicine in that, like most other non-Western medicines, it is truly holistic…"  Sounds good to me!
Ken Koopman
2012, Inkwater Press
Available on Amazon
You already know I'm a huge fan of Bob's Red Mill and their products (and they're a paying advertiser on Eating Rules), and was lucky enough to get a private, behind-the-scenes tour last year. A couple of months ago at the Natural Products Expo West show, I met Bob and he gave me a signed copy of his new biography.  As the back cover says, "In an era of corporate greed and CEOs behaving badly, Bob Moore's philosophy of putting people before profit is a shining example of what's right about America. His unconventional thinking and passion for healthy living are an inspiring story."  Word.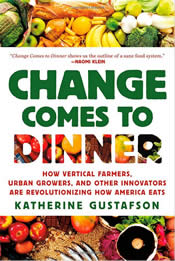 Katherine Gustafson
2012, St. Martin's Press
Available on Amazon
Considering that the introduction is subtitled "Our Country Deserves Better Than Cheetos," you can see why I'm really looking forward to reading this one.
This book takes a look into America's food revolution and gives us hopeful alternatives to the industrial food system, and takes us into food innovators' farms, markets, organizations, businesses and institutions across America that are pushing for a more sustainable food system in America.  Nice to see an optimistic outlook for a change.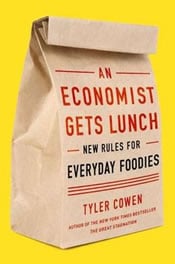 Tyler Cowen
2012, Dutton Books (Penguin Group)
Available on Amazon
The geek in me loves it when economists take on mainstream subjects to question everything — and uncover new and unconventional wisdom.  Here, Cowen applies the most fundamental economic principle of supply and demand to being a foodie:  "Try to figure out where the supplies are fresh, the suppliers are creative, and the demanders are informed."
Although it's quite readable and accessible, it's a tricky book to summarize, since it hits such a wide variety of foodie topics. As the liner notes say, "Cowen offers insights into the world of everyday foodies from agriculture to gourmet culture, from slow food to fast food, and from modernist cuisine to how to pick the best street vendor."  Foodie geeks, rejoice!
Nicholas Carr
2010, Norton Press
Available on Amazon
Okay, so this one isn't really about food. It's about how our brains are, quite literally, being rewired by the 24/7 "always-connected" internet lifestyle.  Carr writes: "Over the last few years I've had an uncomfortable sense that someone, or something, has been tinkering with my brain, remapping the neural circuitry, reprogramming the memory. My mind isn't going — so far as I can tell — but it's changing."
I can relate. When I was still fairly new on Twitter, I attended a particularly twitter-intense food blog conference. There were about 150 of us, all in the same room, and there would sometimes be 40 to 60 tweets per minute with the conference hashtag. By the end of that weekend, while waiting at the airport to head home, I actually felt a physical, tangible change in my brain (on the right side, a couple of inches above my ear).
This is fascinating stuff — and maybe it'll convince you to stop eating lunch in front of your computer.