Roasted Tomato Sauce: Slow Simmered Flavor in a Flash
Roasting gives this tomato sauce the full-bodied flavor of a sauce that simmered all day – in just over an hour!
Who doesn't love to arrive home to the intoxicating aroma of a slowly simmered soup, stew, sauce, or roast – the kind of food you might imagine eating if your grandma had the family over for dinner on a Sunday afternoon or evening. In my house, I have a large red pot that signals to my husband and kids that something really yummy with those slowly developed flavors is in the works. But not everyday is Sunday and sometimes we need a shortcut to creating those big flavors.
That's where roasting comes into play.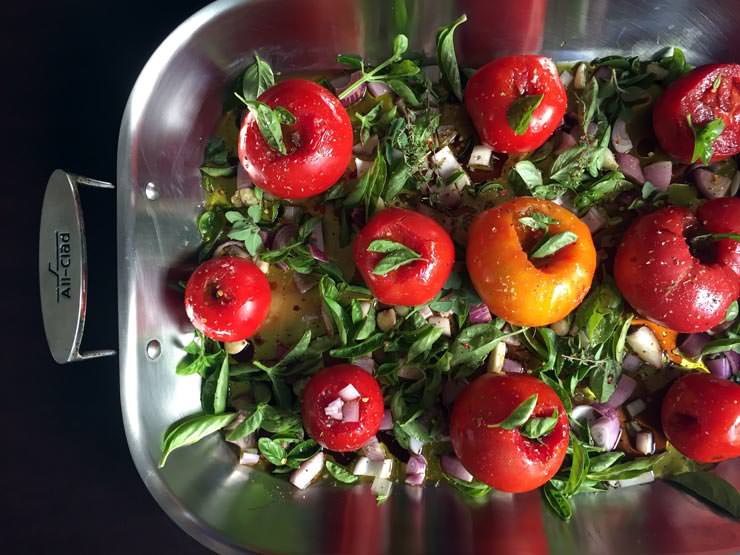 I first wrote about this roasted tomato sauce on my blog in 2010. I found the recipe in a magazine and couldn't stop making it. My daughter's eyes would light up every time she saw me preparing it and the whole family would literally lick the bottom of their bowls when we were done. Roasting intensifies every good flavor in the tomatoes, herbs, and olive oil, leaving you a rich sauce that tastes like you simmered it all day (but you did not!)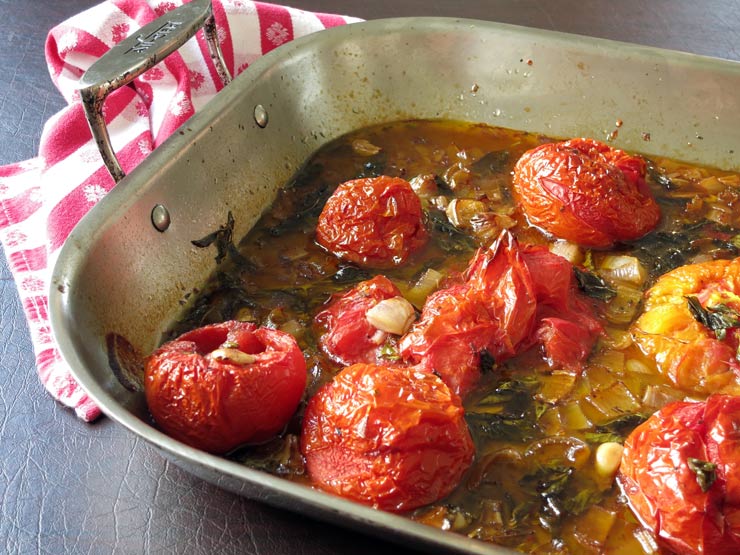 The original recipe for this sauce suggests that you should make it at the height of tomato season with heirloom tomatoes. Definitely good advice, but to me, the real beauty of this recipe is that you can take off-season tomatoes with mediocre flavor and still end up with a super tasty tomato masterpiece.
By the way, don't feel that pasta is the only way to go – try this on roasted veggies, fish, chicken, polenta, sandwiches, omelettes, fritattas…and so on.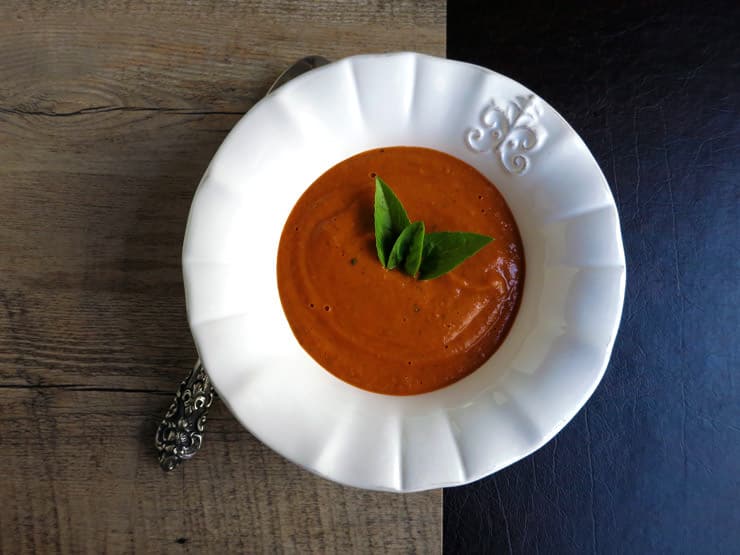 I hope your month of eating unprocessed is inspiring you to find flavor in new ingredients and techniques that can expand your menu offerings without adding complication to your prep. While all cuisines have their simmer-all-Sunday afternoon style dishes that we long to smell in our own kitchens, often times, you can create those big flavors in more time-efficient ways to fit your busy lifestyle. No matter what your favorite style of cooking is, I hope you'll add this roasted tomato sauce to your cooking rotation.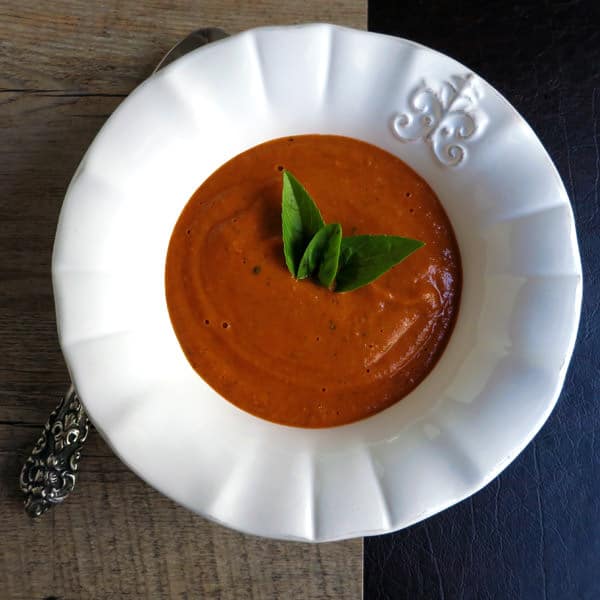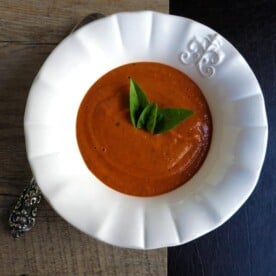 Roasted Tomato Sauce
Roasted Tomato Sauce is a great way to use up a bumper crop of tomatoes when they are in-season. But it's also a great way to make out-of-season tomatoes taste great!
Ingredients
3-4

pounds

ripe tomatoes

1

cup

roughly chopped shallots

1 1/2

cups

fresh basil

,

divided

1/4

cup

fresh oregano

6

cloves

garlic

3/4

cup

olive oil

1/4

cup

balsamic vinegar

1

teaspoon

salt

1

teaspoon

pepper

1/4

teaspoon

red pepper flakes
Instructions
Preheat the oven to 400 degrees.

Core the tomatoes, chop the shallots, peel the garlic cloves (leave whole), and tear 1 cup of the basil and all the oregano from their stems.


Combine all ingredients in a roasting pan and saturate with olive oil and balsamic vinegar, top with salt and pepper, and mix well.


Roast the tomatoes and herbs for 55 minutes, or until the tomatoes begin to singe. Remove from oven and let cool.


Once cool, pour the contents of the roasting pan and the remaining ½ cup basil into a blender and blend on high for about a minute or until smooth.


To serve, pour over pasta or roasted vegetables and enjoy!

Notes
No fresh basil or fresh oregano? No problem. Use dried - just remember that dried herbs are more intensely flavored if relatively fresh so use something like 2 tablespoons of dried basil and a tablespoon of dried oregano.
No shallots? No problem - try some onion - any color will do.
Like this recipe? Rate and comment below!