I have a rule about unprocessed food: Whatever I buy gets eaten twice. The ripe figs dazzle me in my yogurt this morning, topped with toasted walnuts and honey. The rest will appear as tomorrow's appetizer, broiled with goat cheese. My roasted chicken makes an elegant dinner, and then I shred the remains for salad the next day. The guacamole I ate in a taco for lunch will make it into an omelet (yes! My Israeli friend insisted it was good and I tried it!) or employed as a dip with red pepper spears and cucumber.
It sounds rather gourmet, doesn't it? But I haven't planned it that way. Far from it.  I just head to a weekend farmers market and buy whatever looks good, then supplement with proteins from my freezer or the specialty grocery, like Trader Joe's or Costco.
Going unprocessed requires a lot of cooking and strategizing, and I'm not always in the mood. I work at home, and I'm often oblivious of the time. Suddenly I'm famished and want to shove something down my gullet immediately. Today I staved off a major binge by snacking on a few pistachios while I made lunch, but other days I might demolish a half cup of cashews because there's nothing else to eat immediately. That right there is a reason to have leftovers around.
Leftovers refer to cooked or fresh food, in our house. It's a matter of making more than you need or buying more than you need for one meal. Today's lunch was leftover brisket from a restaurant, made into a Caesar with crisp romaine from the farmers market. Last night I paired leftover Asian turkey burgers with steamed broccoli dashed with sesame oil and soy. It took just a few minutes to sauté the broccoli with garlic, then steam it to keep it beautifully green.
Here's what I suggest you keep on hand at all times:
Eggs. I scramble them with mushrooms and onions or make them into a frittata with leftover greens. There's nothing better than fried eggs, particularly in a sandwich with cheese, on days when I don't have much time. Keep a few boiled eggs in the fridge to eat for breakfast or smash into egg salad with mayo and a bit of mustard.
Olives. These are always great for salads, pasta, frittatas and snacks when you need a salt hit but don't want to get into the potato chips.
Avocados. It just takes a moment to smash it on toast or cut it into a salad, and it makes even the plainest meal seem indulgent.
Lettuce. When there's nothing to eat, there's always salad. Even a minimalist salad with good olive oil and lemon tastes great with a sprinkle of toasted sunflower and pumpkin seeds.
Lean proteins like chicken, turkey or tofu. The trick is to have it cooked and ready to go for salads, pasta, sandwiches and snacks.
Cooked grains. Store cooked brown rice, barley, and farro in the freezer so you can defrost for a quick grain salad. Quinoa cooks so quickly there's no reason to see if it behaves in the freezer.
Roasted yams. I roast them after dinner and then stash them in the fridge, wrapped in foil and ready for breakfast or snacks.
About the Author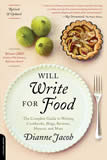 Dianne Jacob is the author of Will Write for Food: The Complete Guide to Writing Cookbooks, Blogs, Reviews, Memoir and More. She is the co-author of two pizza cookbooks: Grilled Pizzas & Piadinas, and the upcoming United States of Pizza (Fall 2015). She coaches writers, edits cookbooks, and is a popular speaker at food blogging conferences. Her blog is DianneJ.com, and you can also find her on Facebook and Twitter.