As a super-busy mom, I must admit that I had a "devil's advocate" conversation with Andrew early on about the reality of a suburban mom's chances of feeding her family truly unprocessed food for a whole month. I explained that my schedule and current lack of a local grocery store made it extra difficult. But I said I would take this challenge as an opportunity to more closely evaluate the food choices I was making and consider whether there are ways to realistically improve our diet. My family's diet is pretty darn good but at close inspection, many corners are cut in the name of convenience and speed. So I thought it would be helpful to share some food replacements and new choices a busy parent can realistically implement. Because I have a teen and a tween who can eat continuously and arrive home from school famished and in need of immediate gratification, my list is largely focused on snacking and quickly prepared foods.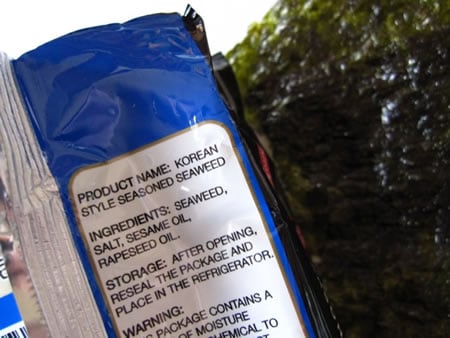 1. Kids craving a crunchy, salty chip? Try seaweed instead – If you go to the Asian section of your regular grocery store, Trader Joe's, or to an Asian market, you will find packages of crispy seaweed. Read the ingredients carefully – some might have MSG added – yuck. But there are brands that are just seaweed, oil, and salt and possibly soy sauce. I know the oil and soy can be unprocessed problems, but if you read the package, you'll see this is a far better choice for snacking than so many processed snacks found in the snack food aisle of the store. Tasty, crunchy, and low in calories. Good accompaniment for some leftover steamed rice as well.
2. Edamame! Another no-brainer for unprocessed. They are unprocessed soy beans by definition, requiring just a zap in the microwave. Add a little salt and pepper and one of nature's perfect foods is ready to eat. You can buy them in the shell or already shelled. And it's fun – you pick them up with your hands then suck out the beans with your mouth, discarding the shell in another bowl. Haven't found too many kids that won't grab for them if I put them out for a snack break.
3. Homemade Applesauce – It's really easy and so much tastier than the processed stuff in little cups or plastic jars. Other than the initial peeling and cutting, there is not much to it. Just be sure you will be home for about an hour to let it simmer on the stove. Or, you can make it in the crockpot — turn it on and forget it while you head off to work, errands, or your daily chauffeur duties. (Try Crockpot Applesauce or Regular Applesauce — in both recipes replace the refined sugar with an appropriate unprocessed substitute; I find that most cooked fruit requires less sweetening than the recipes call for.)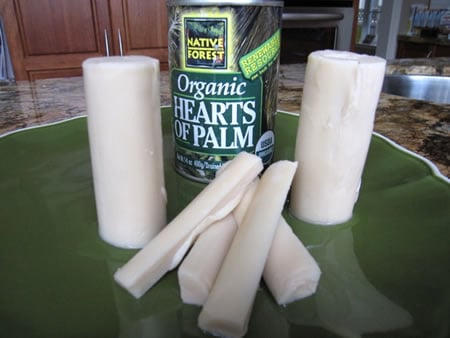 4. Hearts of Palm. "Mom, I'm starving!" is a frequent exclamation in my house, usually about ten minutes before dinner is ready. Don't want to put too much effort into those hunger pangs but you can't stand to hear the whining? Try organic hearts of palm. I can't attest to their unprocessed nature but as snack foods go, they are fat free, low in calories, and actually contain some protein. Look for organic varieties at Trader Joe's. And yes, they really do come from palm trees. And yes, I have seen young children eat them. Give it a try.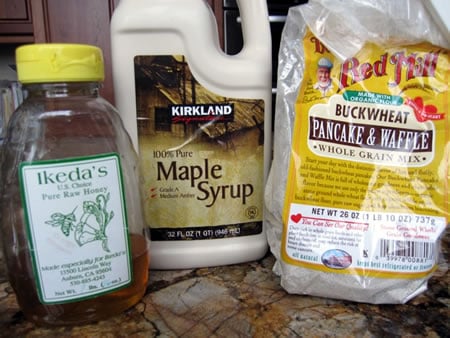 5. Pancakes – Somewhere between that crucial business meeting you were almost 20 minutes late to and the 3rd carpool of the day, did you decide to buy Aunt Jemima Complete Pancake Mix? I admit I've done it. But one day I tried Aunt Jemima Buckwheat Pancake mix (now unavailable) and my kids loved it. So I searched for a replacement and found Bob's Red Mill Buckwheat Pancake Mix. If you think your kids will hate it, try mixing it half/half with your traditional pancake recipe or mix to get them used to it. It worked for me and now I can make 100% buckwheat pancakes and they are perfectly satisfied.
Some unprocessed add-ins to your pancakes? Mash up bananas in the mix, add in blueberries or strawberries or raspberries while they are cooking. Chocolate chips are another crowd-pleaser. Another tip — make extra mix so the kids can make their own creations when they get home from school. It will be good in the fridge for a couple days.
[Andrew's Note: I'm partial to Bob's Organic High Fiber Pancake Mix, and they also have a Gluten-Free Pancake Mix. However, this month they might not pass the Kitchen Test, strictly speaking.]
6. If you give a kid a pancake, then you have to give him syrup. So try buying real maple syrup instead of the fake, processed maple-flavored stuff. And if you just can't get your kids used to the idea of real maple syrup, try raw honey, some of that homemade applesauce you just made, peanut or almond butter, or maybe even some apple butter.
7. Fresh fruit smorgasbord instead of a processed chip and cracker frenzy — hit the local  farmers' market and buy several types of fresh fruit — whatever looks yummy. When you put out a snack, put out a few choices. Kids love selection — it gives them power. 🙂
And don't sell the great banana short. Take it out of its shell and slather some unprocessed peanut butter and jelly on it. Or slice it up and sauté it in a pan with a little butter and cinnamon and a touch of raw sugar. Your kids will think they are eating dessert.
8. Smoothies – Start with your fresh fruit smorgasbord, add some naturally sweetened yogurt like Cascade brand from Whole Foods, some fresh orange juice, a little ice, and blend it up. Just as good as Jamba Juice with a little practice. Good for breakfast or a snack. [Andrew's Note: Try using my Smoothie Flowchart!]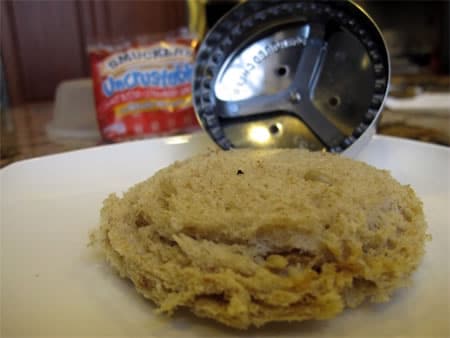 9. Make your own "Uncrustables." Pampered Chef sells a gadget called a "Cut-N-Seal" that I picked up at a neighborhood gathering. If your kids aren't into crust or just like the idea of the uncrustable processed frozen sandwich, try making your own. It's really easy if you have a Cut-N-Seal. Just need two pieces of bread, whatever filling you want and press. You can make a bunch of these sandwiches in advance and freeze them just like the Uncrustables for quick lunch-making on a busy morning. You'll end up with extra bread but you can save it up and make bread crumbs out of it. Or make a "bird's nest egg." Put the outside of the bread in a pan with a little butter, crack an egg in the center, and you've got a fun snack, breakfast, or quick dinner.
10. Buy some natural hummus (or make your own) and serve it with carrots and snow pea pods for dipping. A snack you and your kids can both enjoy.
Bonus #11. Hooked on Oreos? Try Paul Newman's O's instead. The ingredient list is far superior and they actually taste like you are eating a treat.
About the Author
Beth Lee is the kitchen-table storyteller you wish lived next door. Formally a Silicon Valley marketing professional, in 2010 Beth realized she'd rather talk about pita chips than memory chips and started her food blog OMG! Yummy.  Beth is also a freelance writer, teaches cooking classes, and co-leads a worldwide virtual cooking community called Tasting Jerusalem that explores Middle Eastern Cuisine. You can find Beth talking about food on Facebook, Instagram, Pinterest, and Twitter.