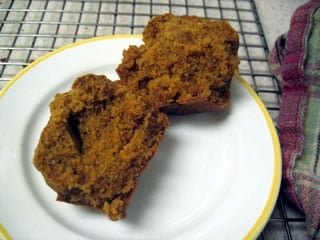 Gluten is a protein in wheat, rye and barley that creates an autoimmune reaction that mimics sandpaper in the gut of celiacs and gluten-intolerant folks. I know, not such a pretty picture but that is how it is.  Over time the damage diminishes the ability to absorb nutrients from our foods and that is when these folks tend to end up in my office for treatment.
When Andrew asked me to guest post again for October Unprocessed, I wondered about a topic.  After all, I write about gluten-free living, some of the most unprocessed cooking of all.  It is naturally unprocessed in so many ways with simple foods, direct from the fields and trees of my neighborhood. Fruits, vegetables, plain meats are all naturally gluten-free.  For my family, eating only gets problematic when the ingredient count rises.
Then the lightbulb went on.
Gums!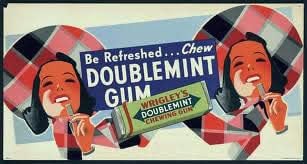 No, not Wrigley's and Trident.
Guar, Xanthan, and methylcellulose.  One of these is included in almost every gluten-free processed food, but why?  Can we eliminate them?  Should we?
Follow along on this little tutorial.
Why?
The easiest answer is that something has to hold those recalcitrant flyaway grains of starch and flour together to mimic the protein structure of gluten. After all, even gluten-free folks want to have tender bread and flaky pie crust. We need something to stand in for the protein and hold it all together.
The wonderful folks in the processed food worlds chose guar gum, xanthan gum and methylcellulose as the best candidates.
What is guar gum?  This one is simple: Guar gum comes from guar beans. They are dried, hulled and ground to a fine powder.
What is xanthan gum?  Far more complex, xanthan gum is a compound made from mixing fermented sugars with bacteria, then precipitated with isopropyl alcohol. No home cook could produce their own, so I would put this in the "processed" category.
Methylcellulose? is synthetically produced by heating cellulose with a caustic solution (e.g. a solution of sodium hydroxide) and treating it with methyl chloride.
Taking wood pulp and treating it with lye and a poisonous gas to create a food additive? Only in the world of Frankenfoods does this make sense — not in my kitchen, thank you.  Watch your packaging for this one, it is ubiquitous in shampoos, toothpastes, and foods like ice cream simply because it works and is fairly inexpensive.
Vegan supplement capsules can also be made from this.
Why would we want to use them in food production?
Gluten is a protein that forms an elastic web that holds air bubbles in place, allowing for rise. There needs to be something similar in gluten-free baking to create bonds between flour and starch molecules.
These products are all powders that are fairly easy to handle in commercial applications, and very predictable in their actions.
All will allow for an increase in dough yield, and improve shelf life. Manufacturers are just reacting to the demand for shelf-stable products.
Are there any side effects to using them?
Yup, check out the table for each one's special situation.  If you have a tender stomach, feel free to just glide on by and know that all of them speed the movement of food through the digestive tract. That increase in speed prevents adequate absorption of nutrients.
| | | | |
| --- | --- | --- | --- |
| Interactions | Guar | Xanthan | Methylcellulose |
| Gas | Frequently occurs | Frequently occurs | Frequently occurs |
| Nausea | Possible even in small doses | Possible even in small doses | Possible even in small doses |
| Blood Sugar | Can reduce blood sugar levels | No known effect | No known effect |
| Cholesterol | Can reduce if used in large doses 15 grams per day | No known effect | No known effect |
| Diarrhea | Frequently occurs with doses above 10 grams per day | Frequently occurs with doses above 10 grams per day | Citrucel is methylcellulose |
| Hormonal | Can diminish absorption of estrogens | No known effect | No known effect |
| Medication interactions | Can effect absorption of diabetes drugs, penicillin and Digoxin in doses higher than 10 grams per day | Used in creation of time released medications. | Creates the slip-and-slide needed in KY Jelly and artificial tears. |
| Food Allergy | | Depending on how it is grown, highly allergic people can react to the growth medium of xanthan. | |
Any other things we can use that might be whole foods?
Using the right combination of flours allows for elimination of gums in gluten-free baking. I've found that the higher the fiber content of the flour, the less need for gums.  Go here to see which flours have the best fiber content.
When I need to get a recipe to have a longer rise time, hold the air bubbles more effectively, or need a bit of flakiness, I reach for raw buckwheat flour.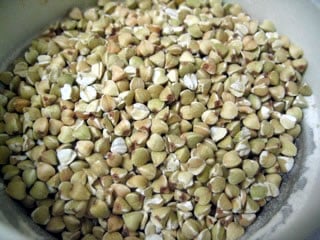 This amazing, triangular, gluten-free grain is my go-to solution for creating the structure in my breads. I am very grateful that Buckwheat is one of the few commercially grown grain crops that doesn't use pesticides and herbicides.
But it has to be RAW — green groats. Grind them just before you need to bake, for the freshest possible flour. I have a coffee grinder I keep for this purpose.  Believe me the investment is worth it.
It doesn't take much to create the viscosity needed.  Replacing just 20-30 grams (2-3 tablespoons) of raw buckwheat flour in a batch of muffins will allow them to spring up tall and tender in the oven.
If you attempt to substitute roasted buckwheat flour, there will be no structure to your baked good.  Imagine focaccia instead of bread, pancakes instead of cake.  Use the raw groats and grind your own.
Should We?
There is one caution about using Buckwheat in place of highly processed gums.
About 1% of the world has an IgE reaction to Buckwheat, meaning they are allergic. So before you transition all of your recipes to this, just try one out and watch for any changes.
Here is one of my favorite recipes that shows off this property of raw buckwheat flour. Enjoy!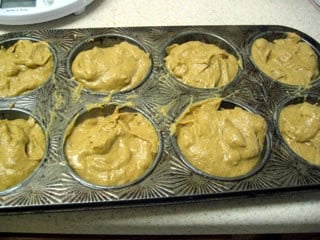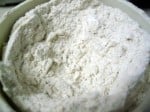 Gluten-Free Pumpkin Pecan Muffins
Egg-free, can be made vegan. Makes 8 muffins. Perfect gluten free option for enjoying the fall season.
Ingredients
Dry Mixture
1/2

cup

raw Buckwheat Flour

freshly ground

1/2

cup

Sorghum Flour

1/4

cup

Potato Starch

not potato flour

1

tsp.

Baking Powder

1/4

tsp

Baking Soda
Other Ingredients
1

cup

Pumpkin Puree

fresh or canned

1/3

cup

Honey

3

Tbs.

melted Butter or Oil

1

tsp.

Vanilla Extract

1

tsp.

Pumpkin Pie Spice

1/2

cup

Pecans

chopped

1/2

cup

Milk

cow, soy, rice, or hemp
Instructions
Preheat oven to 350 degrees Fahrenheit.

Stir dry ingredients together until one color.

Add other ingredients, and mix together.

Place batter into well-greased muffin tin.

Bake 25-28 minutes, or until well-browned

Allow to cool before eating.
Recipe Notes
The 1/3 cup amount of honey makes a lovely, lightly sweetened breakfast muffin. You can increase it to 1/2 cup if you like more highly sweetened ones.
About the Author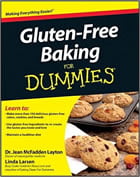 Dr. Jean Layton, is the Gluten-Free Doctor. Her background as a chef in New York combines with her medical knowledge to teach her patients how to thrive gluten-free.
As co-author of Gluten-Free Baking for Dummies, she simplifies the challenges of baking in a whole new way.
Connect with her on Twitter, Facebook, Instagram, and Google Plus.