Ten Steps To An Unprocessed Pantry
Oct 01, 2012, Updated Jun 13, 2016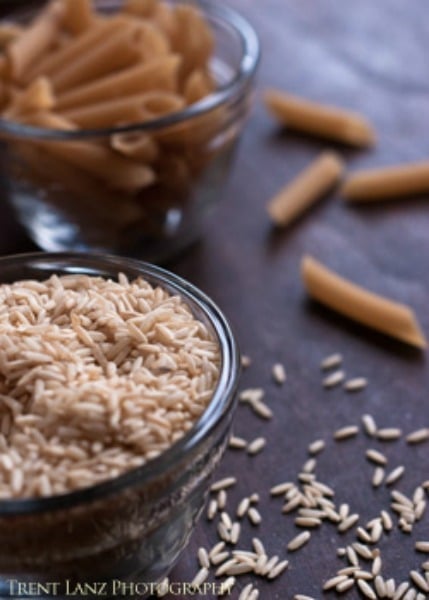 The foundation of unprocessed eating is a healthy pantry.  Clean out the junk and invest in a few items that will aid in the construction of nutritious meals.
I've gathered ten simple rules to stocking your pantry for October Unprocessed success!

No artificial ingredients.  It's time to remove all of the items like chips, dips, dressings, etc. that do not contribute to a whole foods diets.
Get rid of everything that contains high fructose corn syrup and any trans fats.
Avoid any "instant" mixes, boxed meals and processed chips.
Examine your energy bar. Read the label. If it has any ingredients you do not recognize, switch brands.
Get rid of any pre-made sauces with added sugars or other additives.  For example, replace jarred sauces with organic, low-sodium tomato paste.  It still gives you the convenience of a quick sauce but provides a single ingredient pantry item as the starter.
Steer clear of canned fruits or vegetables. Frozen varieties offer more nutrition if fresh produce is not an option.
Eliminate microwave popcorn bags.  Part of going unprocessed means incorporating as many whole food, single ingredient items as possible into your pantry. Buy kernels in bulk and pop the old-fashioned way. [Andrew's Note: You can still use your microwave if you want! Here's how.]
Replace sugars with honey or maple syrup which fall under the whole food category, unlike processed sugars.
Purchase 100% fruit juice and unsweetened applesauce.
Use only whole grain foods like brown rice and whole wheat pasta.
And some suggestions to help you stay the course!
Increase on hand amounts of bulgar and quinoa. These are high-nutrition grains that are easy to combine with fresh vegetables to create a quick, balanced meal.
Make your own granola from organic rolled oats, honey, slivered almonds with add-ins like shredded coconut, cranberries and dark chocolate.
Have the spices in your pantry been on the shelf for over a year? Time to replace! Invest in quality spices from local farmers markets. Using dried herbs in place of salt can lower your blood pressure without sacrificing flavor.
Switch to wholesome snacks in small quantities, like almonds, walnuts, sunflower seeds, dried fruits and fresh fruit.  Keeping a small snack with you during the day will provide an alternative to chips and high sugar snacks when cravings arise.