A Healthier Halloween (and "Mashed Brains" Guacamole)
Oct 26, 2013, Updated Aug 29, 2017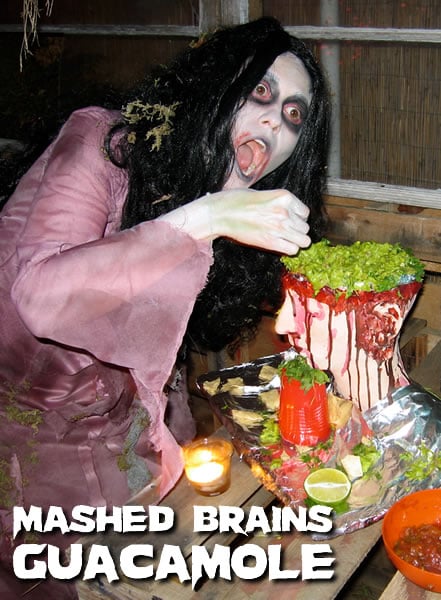 Ah yes, Halloween. So many ooey, gooey, sticky, sugary treats, enough to make your teeth rot, which may serve you well if you're thinking of dressing up as a zombie. But if zombie teeth, weight gain and diabetes aren't the result you want from this ghoulish holiday, check out some of my favorite ways to get the same "frightening" look and taste without the Frankenstein ingredients!
Here are a few ideas on how to use "au naturale" ingredients to achieve spooky yet delicious treats! To get specific colors, try:
BLACK: poppy seeds, raisins, currents, black beans, cocoa, carob
PURPLE: blueberries, purple cabbages, blackberries, eggplant/plum (skin only)
GREEN: leafy greens, broccoli, kiwis, peas, green beans, avocados, celery, green onions, herbs, green apples (skin only)
ORANGE: pumpkin and other winter squash, oranges, carrots, cantaloupes, persimmons, orange bell peppers, yams
RED: beets, strawberries, cherries, raspberries, red bell peppers, cranberries, tomatoes, pomegranates, red onions, red delicious apples (skin only)
YELLOW: pineapples, bananas, corn, yellow bell peppers
WHITE: coconuts, potatoes, sweet potatoes, lychees, dragonfruit (some varieties)
Some tips & Tricks for a Healthy Halloween:
When baking, go for natural, non-processed sugar. You will avoid the crash and burn (especially kids) and will keep you from over eating more junk.  To replace white sugar try: Honey, Molasses, Maple Syrup, (Homemade) Stevia, or Unrefined Sugar (Turbinado, Demerara, Muscovado).
Baking with whole grain or gluten-free flours will be healthier and more easily digestible than all-purpose white flour.
Get really creative and make your own recipes using the lists above as inspiration. Aim for lots of colors and textures, and try new ingredients, and you'll never be bored with healthy eating.
Create homemade meals and treats whenever possible. Prepackaged and fast food is loaded with sugar, chemicals, trans-fats, sodium, artificial colors & flavorings, not to mention often-hidden animal products.
Eat healthy foods first and save treats for dessert time. If you fill up on real food, you will be less likely to over indulge on junk food.
Drink plenty of water. We often mistake thirst for hunger (especially when eating too much sugar), which causes us to overeat.
Eat lots of raw fruits and veggies! You will get load of enzymes that aid in digestion, detoxing, and repairing your body. To avoid a tummy ache, eat fruit by itself, preferably on an empty stomach.
The healthier you are the less likely you will crave the sugary garbage. And even if you do slip up, you won't fall off the edge.  😉  Have a Healthy Halloween!!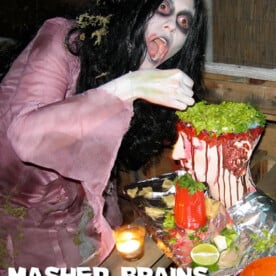 "Mashed Brains" Guacamole
This guilt free snack will have you scrounging for more guacamole.
Ingredients
2

ripe medium avocados

1

large

tomato

,

finely diced

1/4

cup

cilantro

,

chopped

2 to 3

green onions

,

chopped (use whole onion, not just the whites)

1

medium lime

,

juiced

1

teaspoon

garlic

,

minced

Salt and pepper

,

to taste

1

jalapeno

,

diced (optional)
Instructions
Combine all ingredients in a bowl by mixing and mashing with a fork. Add more of any ingredient to your taste. Serve with chips and/or crudite.
Nutrition
Calories:
169
kcal
,
Carbohydrates:
11
g
,
Protein:
2
g
,
Fat:
14
g
,
Saturated Fat:
2
g
,
Sodium:
8
mg
,
Potassium:
520
mg
,
Fiber:
7
g
,
Sugar:
1
g
,
Vitamin A:
310
IU
,
Vitamin C:
20.5
mg
,
Calcium:
18
mg
,
Iron:
0.6
mg
Like this recipe? Rate and comment below!