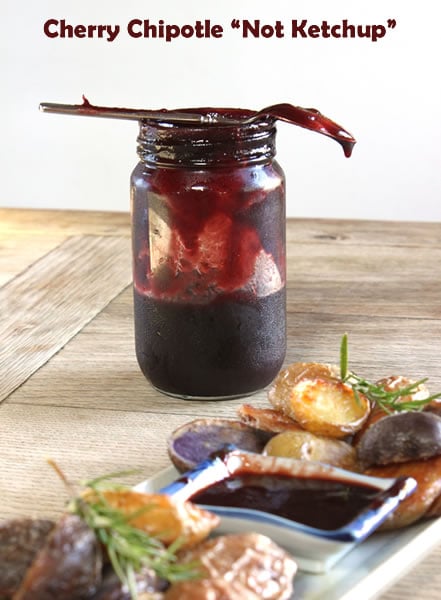 The idea for Not Ketchup came to me one day last summer. I was tired of making jam and decided to turn a pound of ripe plums into a sort of ketchup. Vinegar, onions, sugar, spices…the resulting sauce was tangy and delicious with a peppery kick. I could imagine it slathered on roast chicken, dolloped on a burger, pooled next to a plate of french fries. It was like ketchup, but much more complex and interesting.
This is really good, I thought. I should bottle it.
Thus was born Not Ketchup. (Why the name? The FDA has strict rules: No tomatoes, can't call it ketchup.) I hoped the world would love my modern, gourmet take on America's most popular condiment. Ripe fresh fruit, sweet onions, pure apple cider vinegar, unprocessed sweeteners like honey and palm sugar: I had visions of brightly colored bottles of my all-natural, completely unprocessed sauces lining supermarket shelves.
And then I discovered that if I wanted to sell to large retailers and ever make a dime, I'd have to make a few compromises.
When you make a food product in small batches to sell at farmers markets or directly to consumers online, you can make it pretty much the same way as in your home kitchen. Keeping things unprocessed is relatively easy. But when you're making a food product in a manufacturing plant in large quantities, a product that has to stay fresh and consistent for months, you have new considerations.
Food safety is priority number one. How long will it take for your product to start to degrade? Obviously, the longer the better – but creating a stable product with a long shelf life probably means altering your recipe.
And money becomes an overriding concern. You start with the retail cost of your product: How much will stores be able to charge per unit? Take half that number, and that's how much retailers will pay you. Halve it again, and that's the ceiling for your per-unit production cost.
Do the math: It's not a lot. And then there are other costs: labels, bottles, shipping, marketing, sales commissions. The higher your production costs, the less money you make on each bottle sold.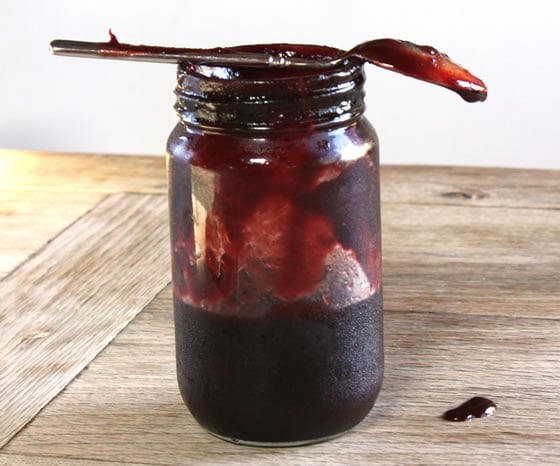 The experienced food technologist I hired to develop the formula and manufacturing process for Not Ketchup reminded me daily of my bottom line. The standard approach for making a product like this industrially, he explained, is to maximize the amount of water and sugar in the bottle, because those are the cheapest ingredients. The reason Heinz can sell huge bottles of its standard tomato ketchup for just a few bucks is that it's full of corn syrup (two kinds!), water, and tomato paste. Tomato paste is cheap. Cherries, blueberries, and plums are very expensive by comparison.
But I didn't want to make that kind of product. Certain things were non-negotiable. Real fruit had to be the primary ingredient, and I was determined to put as much fruit into each bottle of Not Ketchup as I could afford. I insisted on unprocessed sweeteners like honey, palm sugar, and turbinado sugar, which are significantly more expensive than plain old white sugar. We added no preservatives, no artificial colors, no artificial flavors.
But in order to be able to sell Not Ketchup with a 12-month shelf life – desirable, even necessary, in the eyes of retailers – ultimately I did add several ingredients I wouldn't have used at home. After failed experiments with date paste and dietary fiber, xanthan gum proved to be the best way to maintain the product's texture. And "natural flavors" will keep the acid in Not Ketchup from overtaking the fruit flavor as the bottles sit on grocery store shelves.
I know these compromises mean that Not Ketchup doesn't pass the October Unprocessed test. But it's delicious, it complies with Whole Foods' strict ingredient standards, it's a product I believe people will like and buy, and the numbers work.
For October Unprocessed, here's the totally unprocessed version of my Cherry Chipotle Not Ketchup. It's equally delicious on a turkey sandwich, with sweet potato fries, or served alongside a juicy steak. If you want more heat, feel free to increase the chipotle powder.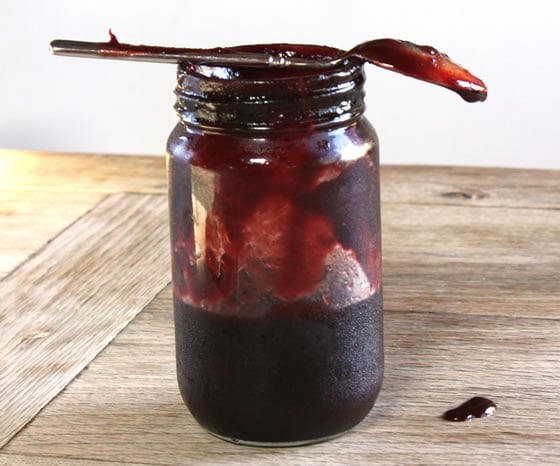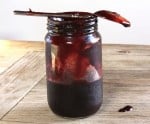 Cherry Chipotle "Not Ketchup"
Ripe fresh fruit, sweet onions, pure apple cider vinegar, unprocessed sweeteners like honey and palm sugar: I had visions of brightly colored bottles of my all-natural, completely unprocessed sauces lining supermarket shelves.
Ingredients
1

pound

Bing cherries

pitted (fresh or frozen)

1

cup

diced red onion

2/3

cup

apple cider vinegar

1/2

cup

palm sugar

3

tablespoons

honey

1/2

teaspoon

salt

1/4

teaspoon

dried mustard powder

1/4

teaspoon

dried ground chipotle powder
Instructions
Place all ingredients in a blender and process until smooth.

Pour into a saucepan over medium heat. Bring the cherry mixture to a boil, turn down the heat a little, and simmer briskly about 45 minutes, stirring every 5 minutes to make sure the Not Ketchup isn't sticking to the bottom of the pot.

When the Not Ketchup looks thickened and glossy, pour it into a clean jar or bottle and store in the refrigerator. Use within 1 month.
About the Author
Erika Kerekes is a food entrepreneur who blogs about food, family, friends, and dealing with diabetes at In Erika's Kitchen.  Her Not Ketchup Paleo line of gourmet condiments are available at notketchup.com and on Amazon. You can also find her on Facebook, Twitter and Instagram.