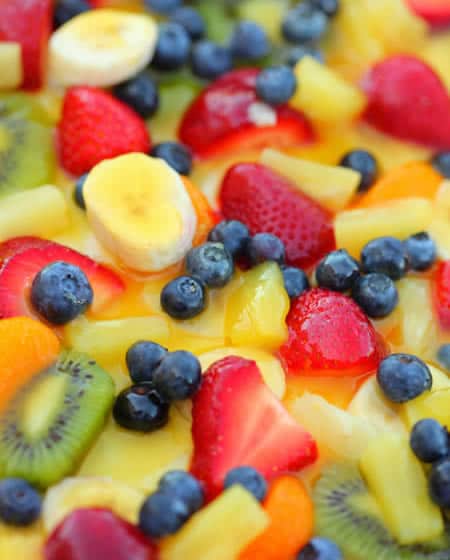 This post originally appeared as a guest post on the Attune Foods blog.
School is out! And that means it's time for the summer activities and foods that we've been looking forward to for months. I don't believe for a moment that you need to starve yourself to fit into your bathing suit.  Instead, I like to focus on what I can have during the summer. And guess what? It's pretty much everything. That is, if you plan ahead just a little bit and focus on the healthier options whenever possible.  Here are a few ways in which I do that.
1. Enjoy Summer Fruit
Summer is by far my favorite produce season. By February, I'm dreaming of perfect peaches from our farmer's market. Of course, there are also plums. Watermelon. Strawberries. Cherries. Figs. Nectarines… So instead of reaching for a candy bar or other sugary, processed food when you want a summer treat, why not grab one of those?  (Okay, maybe not an entire watermelon, but you get the idea.)
2. Grill with Care
The arrival of summer also means the start of BBQ season! I'm a huge fan of grilling – it's easy and delicious (two of my favorite things).  Of course, what you choose to put on the grill makes all the difference. Most veggies are fantastic on the grill – and pretty hard to mess up (unless you let them slip through the grates!).  Just marinate them for about 30 minutes in a little olive oil, maybe some balsamic vinegar, salt, and pepper and you're all set (try that with Portobellos – and sprinkle a little blue cheese on top when they're nearly done.Heaven!). When grilling meat, higher-quality meats (pastured, sustainably raised) will taste better and be better for you, and you won't need to weigh that burger down with tons of cheese and condiments.
Also, try to avoid hanging out near the bowl of potato chips. You'll end up mindlessly snacking on them and eat far more than out would otherwise. Position yourself near the baby carrots instead, and you'll still get that satisfying crunch!
3. A Day at the Beach
Going to the beach to soak up some rays?*  Staying hydrated is important, so instead of bringing along soda or other sugar-sweetened beverages, bring along a water cooler filled with fruit- or vegetable-infused iced water.  It's delicious and refreshing, and you'll never miss that bottle of sugary Gatorade. It's a whole lot cheaper, too.
Some ideas: Cucumber slices. Strawberry slices. Lemon and lime wedges. Watermelon cubes. Maybe toss in a few mint or basil leaves as well!
* Don't forget your sunscreen, of course. Check out the Environmental Working Group's Sunscreen Guide to help you find a good one.
4. Plan a Picnic
For your next picnic, how about choosing just one dish that you normally get from the store, and making it from scratch?  It'll taste better, be better for you, and will have the bonus of impressing your friends. Here are some swaps for common picnic calorie-bombs: Potato salad (Kelly suggests swapping half the mayo with plain Greek yogurt). Pasta salad (or this one with Salmon). Coleslaw. Ice cream (or this one made from frozen bananas).
5. Road Trips
Before you hit the road, why not load up an ice chest with road-worthy snacks and sandwiches? Focus on foods that aren't messy and don't need utensils. Carrot and celery sticks. Cheese (you can cut up some pieces, or pack some string cheese*). Orange wedges (peel them at home, so you can just tear apart the wedges when it's time to enjoy). Unsweetened yogurt with some fruit. 100% whole grain crackers. Whole wheat pretzels. Cherry tomatoes. Grapes. Hummus (preferably homemade, of course) is a worthy dip to take along, too – most of these foods are great with it.
* String cheese tends to be a bit saltier – and definitely much more expensive – than most other cheeses. However, the benefit of having the individually servings (so you don't eat more than one piece) may be worth the tradeoff.
6. Forget Theme Parks, Go Outside!
Theme parks are crazy-expensive and generally have very few healthful food options. Worse, they usually don't let you bring in your own food. Why not save a ton of money, and enjoy other outdoor activities with your friends and family?  Go hiking, swimming, play volleyball on the beach… there are so many wonderful outdoor activities in the summer, it'd be a shame not to take full advantage of all the nice weather.
—
Photo: Sweet Summer Rainbow Fruit Salad © 2010 Pink Sherbet Photography. Used under Creative Commons License.