We Made It!
Nov 01, 2011, Updated Jun 28, 2020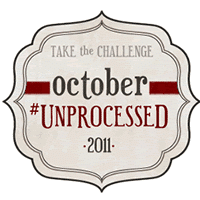 Wow, what a month!
By October 1st, 2,000 people had signed the October Unprocessed pledge. As people continued to discover the challenge, our numbers ultimately passed the 3,000 mark. Incredible.
I want to express my enormous gratitude for the 55 (yes, fifty-five) guest authors and experts who shared their time, talents, energy, and recipes. I hope you agree that the guest posts were terrific! Many thanks both to the friends whom I cajoled into writing and to the folks who reached out and offered to contribute. Everyone — and I mean everyone — blew me away with their resourcefulness, enthusiasm, and professionalism (and remember, everything was voluntary; nobody was paid for his or her contribution).  The food blogging community is one of the finest groups of people I've ever been blessed to know and be a part of, and for that I am truly blessed and grateful.
Thank you as well to everyone who helped spread the word about October Unprocessed. Whether it was through sharing on Facebook or Twitter, writing on your own site or news outlet, or just through a simple conversation with a friend, including others in this challenge is important on so many levels. It increased awareness and participation — but more than that, it continued to build community and strengthen this important revolution.
Finally, I'd like to thank everyone who took the challenge, signed the pledge, and participated. Even if it was just for one day, giving it a go is so important. Ultimately, this challenge is about awareness and about truly considering what you're putting in your body. I'm pretty sure I don't need to do any more convincing, though, so I won't ramble on any more about that!
Later this week I'll be sending out a survey to get your feedback on the challenge. I hope to learn what you liked best, what you liked least, and everything in between — and where you think we should go from here.
In the meantime, though, I'd simply like to list all the guest posts and their authors one more time — and encourage you to read (and share!) their posts if you haven't yet, and to visit their sites and see what they're all about.  It's a pretty terrific group of folks.
With gratitude,
Andrew